Overview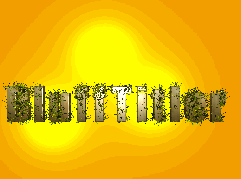 BluffTitler has won fame throughout the video editing world. And frankly, that isn't surprising - it opens a whole new world of creativity not just for titling, but also for creating your own motion backgrounds and animations. The easiest way to discover the incredible power of this titler is, quite simply, to download the trial version for yourself (do that here) and have a look at the numerous demo titles included - covering virtually every possibility the program offers. I will almost guarantee you'll be buying it!
It's creator Michiel den Outer is very proactive and updates to the programme are offered regularly - yet if I remember correctly, only perhaps a couple of times in the many many years that I have had this programme have I had to pay for an upgraded version. At the time of writing, the latest version is 10.x (Version 9 was missed out to avoid potential confusion with the 'DX9' part of the title). My original review covered version 5 and 6 … and the programme has advanced so much since those days, I felt to repeat that review now would be misleading and not do the programme justice. It now comes in several flavours - a basic version, an advanced 'Professional' version (which I strongly recommend at around 50 Euros) ), and a Broadcast iTV version for, umm, broadcast companies and so on.
I will be writing a review of the latest version (if I can keep up!) And possibly be introducing some 'starter tutorials' for it, but in the meantime, I strongly recommend you download the trial version. But be prepared to spend an hour or two just going through the myriad of examples that come with it! It has to be said that many of the examples are a bit garish, the sort of thing you might look at and say 'well, I don't want any titles like that in my movies'. Regard them as examples of potential and capability rather than titles you may want to use. I should also warn you that the BluffTitler interface is a little unconventional - but when you get used to it and understand the principle behind it and what the the different sections do, it makes perfect sense and its real power will shine through. When using the program, one starting point is to load up a title that reflects closely what you want, then 'just' change the wording. That works with many of the simpler titles. If you study the way the more complex titles have been assembled, you'll soon be creating your own masterpieces. Give it a go - now!