Footprint Productions is a small group of amateur film-makers based in South London (Bromley, Kent, UK), initially coming together to create a movie of historic interest, 'commissioned' by the local History Society. During researches, a number of reels of old 35mm and 16mm film dating back to the 1930s were discovered in the local Library's archives. It was virtually impossible for the general public to view these films which, from their titles alone, obviously depicted pre-World War 2 life in and around the Borough. As a result of this find, our group was formalised with the aim of having the invaluable material digitally transferred to miniDV tapes, enabling us to then edit it and create DVDs which could be watched, at home, by anyone interested.
A considerable amount of work was involved - thankfully helped by members of the Local Library - to determine not only the stories behind the content of the films (most of which are silent and depicting un-captioned events), but also to ascertain ownership of the material. This took nearly two years. At the same time, funding to supplement the group's own investment in the project was made available to help with the very expensive exercise of having the films professionally transferred to digital tapes and of course, the cost of professionally duplicating and printing the resulting DVD movies. Happily this was achieved with the help of the Bromley Borough Local History Society, and the Bromley Arts Council. Once the projects are 'rolling' it is anticipated they will be self funding, any excess income over outlay being donated to suitable charities.

We are Brenda Troughton - Research and Production; Richard Troughton - Camera; and Mike Shaw - Direction and Editing.
Check out our current historic movies by clicking on the 'Our Films' tab above.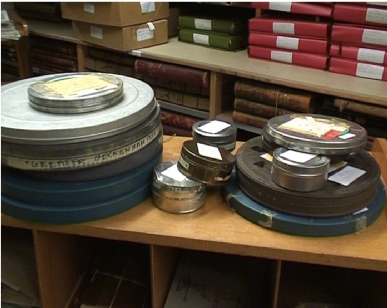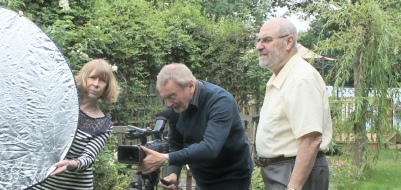 Brenda, Richard and Mike - the Footprints Team - on the Enid shoot